About FireMon
FireMon delivers continuous security for multi-cloud hybrid enterprises through a powerful fusion of vulnerability management, compliance and orchestration. Since creating the firstever network security policy management solution, FireMon has continued to deliver real-time visibility and control over complex network security infrastructures, policies, and risk postures for more than 1,700 customers around the world.
The Choice of the Global 2000
For nearly 20 years, FireMon has been the enterprise choice to save time and money by automating firewall and cloud security group policies.
Use Cases
Continuous Compliance, Network Security Automation, Risk Management, Security Policy Management, DevSecOps and Zero Trust
Tame the Rules.

Reap the Rewards.
FireMon tames your network complexity, shrinks your threat surface, and speeds up your security operations.
In today's world security policy management is critical. FireMon improves security operations to help you improve security outcomes.
The Only Scalable and High-Performance

Policy Management Solution
See everything – Integrates real-time, continuous visibility across your entire network, to reduce your attack surface, eliminate leak paths, and ensure compliance.
Scale and perform – Has the industry's most robust and flexible architecture to secure even the largest and most complex networks while maintaining desired workflows.
Adapt to change – Dynamically and continuously responds as your requirements and environment evolve—even after policies have been deployed.
Protect everything – The industry's broadest support for firewalls, devices and cloud security groups. Simply put, any firewall, any cloud.
Integrate anywhere – The most robust, flexible API on the market. Seamlessly integrate compliance checks & policy automation into your existing system or process.
Improve Security Outcomes by Improving Security Operations
Ground-to-cloud security policy and configuration management, only from FireMon.
As networks become more complex and policy rulesets continue to multiply, it becomes increasingly difficult to manage compliance, implement rule changes, prevent outages, and address vulnerabilities before they're exploited.
Without an integrated way to manage firewall and hybrid cloud network policies across multi-vendor, highly-distributed environments, organizations struggle with time consuming and error prone manual compliance reporting, extended response times to business owners, and lack a clear view of risk across their entire environment.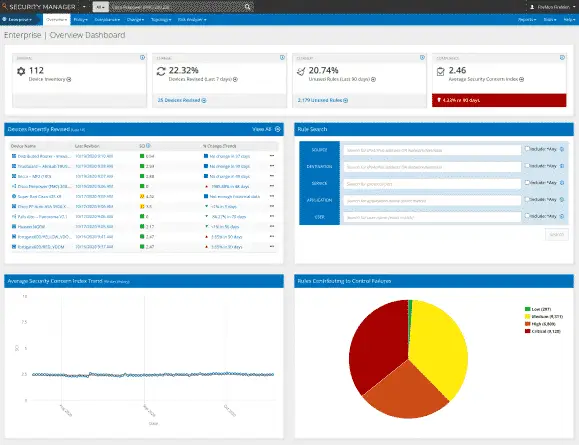 Consolidated
FIREWALL RULE MANAGEMENT
that delivers 
RESULTS
Deploy rules

400% faster

80% less time

to generate reports
99.5%

reduction in misconfigurations

100%

error-free compliance reports
50%

reduction in compliance staff needs

6x

ROI in year 1
Certified to

15,000+

devices

25 million

rules
40% more

devices detected

24 million

IPs scanned per hour