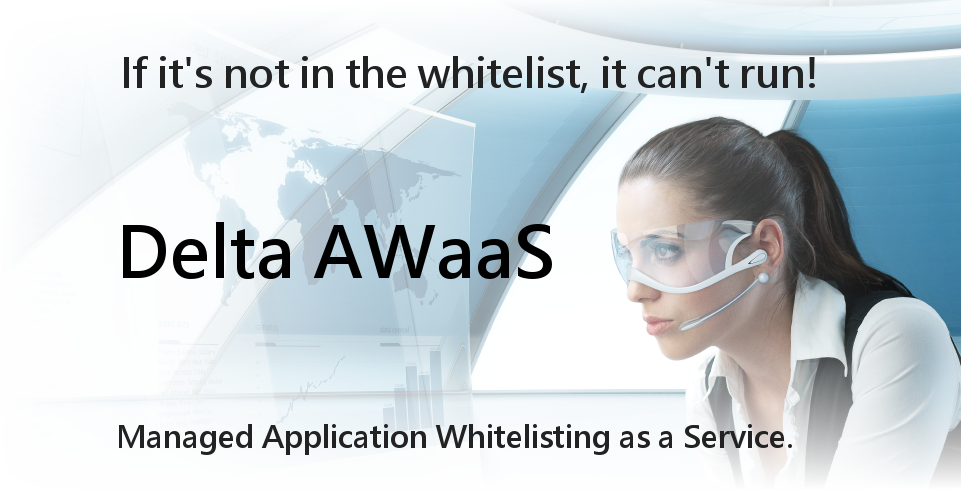 Delta Application Whitelisting as a Service
Application whitelisting as a Service is designed to prevent malicious software or unauthorised applications from executing on a system.  Put simply, it isn't authorised to run—it won't run. Period! Application whitelisting is NOT signature or heuristic based anti-virus.  It is the opposite.
Application Whitelisting as a strategy has been recognized by many leading security agencies as one of the most effective methods to combat cyber security incidents.
Delta Managed Application Whitelisting as a Service removes the complexity from traditional implementations of whitelisting, whilst offering industry leading protection from targeted cyber intrusions.  Designed to reduce complexity whilst offering maximum protection, Delta Application Whitelisting as a Service offers one of the most effective strategies to minimize the risk of cyber security incidents.
Managed end to end with 24/7 x 365 days a year coverage, Delta Application Whitelisting as a Service offers the best protection from Ransomware and other malicious software on the market.
Hash based . Each individual executable is trusted, not entire applications.
One time PADs, allow ad hoc installation of one off Applications.
Enforcement mode to enforce whitelist policies and block everything else.
View Network connections being made by applications.
Bulk Adds to Application captures making whitelist maintenance a breeze.
Application Captures to enable new applications to be added to your solutions set.
Baseline building to capture your normal operating environment.
Management Reports for high level view of the state of application usage.
Granular Path Exclusions allows path exclusions from whitelist enforcement.
Check files against known malicious hashes to aid decision making
Publisher Trusts allow you to trust all files from known and verified publishers.
Audit mode to capture what's normal and identify what's not.
Detailed Reporting showing all untrusted executions on a network.
Enhancements available though Delta imanager
Monitored 24/7 x 365 days per year by Delta Technology Solutions